Over the next few months, Las Vegas-based golf writer Bill Bowman will give readers a look at DragonRidge Country Club and all it has to offer for members and prospective members. From a challenging golf course to impressive dining options to a variety of other high-end amenities, we will showcase the ultimate lifestyle DragonRidge has to offer on and off the golf course.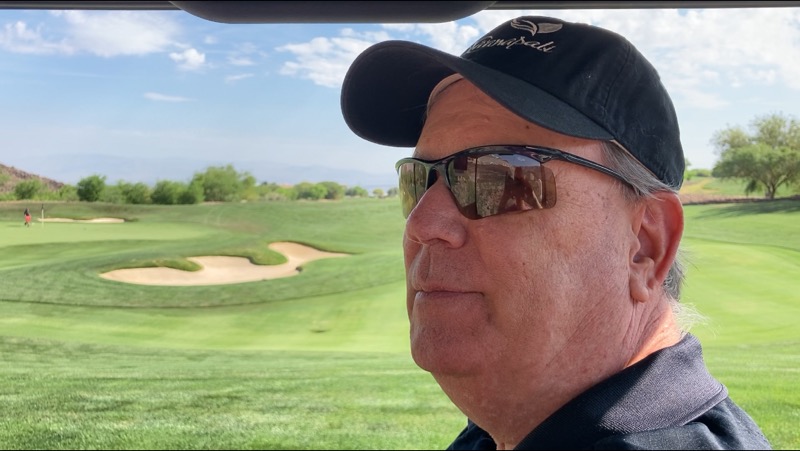 Now, where were we?
Oh, yes…we were telling you about DragonRidge Country Club's layout and everything the club has to offer.
Let's start with the Jay Morrish and David Druzisky golf course that features 18 holes of pure challenge. Whether you're a beginner or a seasoned pro, there's plenty of risk/reward holes to challenge everyone.
Today's adventure will take us straight to the 18th hole which, during your round, will give you 17 other holes to plan on how to attack this impressive finishing hole.
Believe us, you'll need it.
The 18th, a par-5 reaching 530 yards, is one of those golf holes players either swear by or swear at. There is no middle ground.
Well, actually there is a middle ground but it's certainly not the place to be on this impressive hole. The middle ground is a wash that splits this fairway and can give players nothing but trouble–along with lost golf balls and added strokes. Steer clear…which is easier said than done.
So which fairway is the best landing area? This one's easy. The fairway on the right has a much larger landing area. There's also a bunker further down this fairway that provides a nice aiming point for the layup shot…unless players are going for the green in two. If that's the case, you're on your own. We have no tips or bits of wisdom for that type of shot as it, sadly, isn't in our arsenal.
And, nice guys that they are, the design team has provided a fairway left that can catch errant shots and keep golfers in play. (Read: severe hook for right-handed golfers).
From both fairways, players need to decide if it's worth the risk going for the green in two. There is a lone bunker fronting the green as well as two other bunkers behind.
Oh, and that pesky wash is still hanging around in front of the green ready to cause a little more pain should players come up short.
Once on the green, there's still more challenge awaiting. The undulating green has two distinct levels. The front-left and back-right are separated by a ridge that will test players' putting skills to the max. But find the right level with your approach shot and you'll have a solid look at birdie–and possibly that elusive eagle if you've found the green in two.
Overall, it's a hole that needs to be played smart but it can provide a scoring opportunity to end the round in high style. But beware: Get too aggressive and big numbers can come into play.
But, no matter your score on the hole (and for the rest of the round) you'll be able to celebrate/commiserate in the restaurant/lounge areas after taking on this masterpiece.
Come back next time and we'll let you in on the dining and drinking options the club has to offer.
Like the golf course, those options are plentiful.
Bill Bowman is a Las Vegas-based writer who has more than 45 years in the sports-writing business. He's spent the past 18-plus years covering the golf scene in Vegas and has teed it up for a wide variety of magazine and website profiles with celebrities including comedian Bill Engvall, actor Jeffrey Donovan (USA's Burn Notice), former ESPN personality Colin Cowherd, NASCAR's Kurt Busch, Collective Soul's Ed Roland, the Baltimore Ravens' Jonathan Ogden and many others.