Over the next few months, Las Vegas-based golf writer Bill Bowman will give readers a look at DragonRidge Country Club and all it has to offer for members and prospective members. From a challenging golf course to impressive dining options to a variety of other high-end amenities, we will showcase the ultimate lifestyle DragonRidge has to offer on and off the golf course.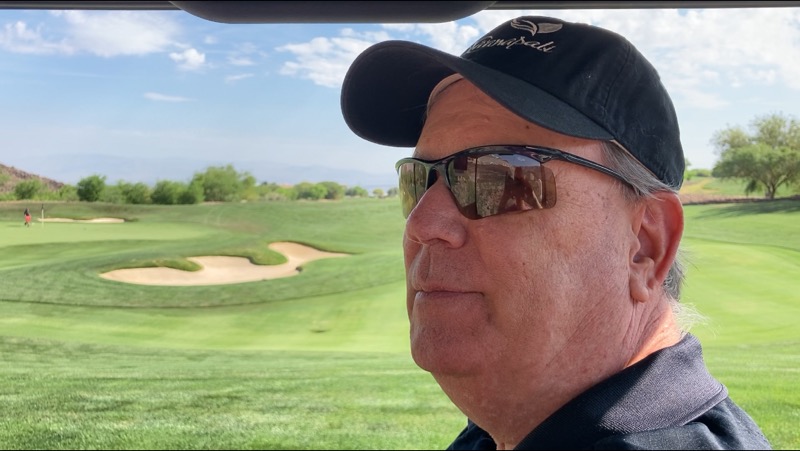 OK, we're heading back onto the course for an eye-popping view you won't believe.
The saying is simple: Keep your eye on the ball.
As simple as that advice seems, a couple of holes at DragonRidge Country Club make that a tough, if not impossible, prospect.
And the par-3 5th hole is a prime example. The 165-yard hole sits above a huge, inviting green. There's a water feature as well as a couple of bunkers that can (but shouldn't) come into play.
But that's not the first thing golfers will notice. Not by a longshot.
Off to their right is the famed Las Vegas Strip…and not just part of it. The whole impressive 4.2 miles of glitz and glitter.
Having played in a shotgun event years ago, our group finished up on this scenic hole just as darkness was starting to set in.
There may not be a more stunning sight that screams Las Vegas than seeing the Strip's brilliance start to light up while you're waiting to hit a tee shot at a daunting green.
Oh, don't get us wrong. The green itself is huge. It's an inviting target.
But it's the multiple levels on the green that can pose the problem… or problems. If the pin is in the front and your tee shot winds up on the upper level, good luck stopping your putt anywhere near the hole. But after all, this is Vegas and luck is part of the equation.
If your ball comes to rest on the lower level and you're putting uphill, it's simple: Make sure you get the ball to the proper level or you may find the ball right back at your feet and hitting the same putt again.
It's certainly a challenging hole, both picking the right club to hit as well as turning away from that stunning view.
Just standing on the tee and looking at the Strip, it's impossible to not be impressed.
Now, whether this golf hole, and the golf course in general, is more impressive than the views around the layout is one of those debates better settled over a drink as we finished up and raced back to the clubhouse to beat the sunset.
And you will have that same debate once you pull your golf cart up to the tee box and look out at the stunning views…both on the hole and on the famed Vegas Strip.
Now, back to concentrating on that tee shot and the rest of your round that lies ahead.
Next up: It's more than just golf that attracts people to DragonRidge Country Club…much more.