Learning the game of golf can sometimes be confusing and frustrating. I find it more enjoyable if you view it as a journey, not a destination.
The relationship between a student and an instructor is similar to that of a tourist and a tour guide. First, I need to find out where a student wants to go in order to help them get there. I develop a road map for their journey after I learn about their goals, dreams and abilities.

Recent studies have shown the only group of golfers who exhibit consistent improvement in their game are those working with a qualified instructor.
I am committed to exceeding your expectations and making your journey through the game of golf an enjoyable one.

In my 47 years as a golf professional, I have become an expert in the full swing and an expert in the short game. I have been chosen PGA Teacher of the Year 17 times and was one of GOLF Magazines Top 100 Teachers for over a decade. I am a member of two Hall of Fames: The Pacific Northwest Golf Association and the Las Vegas Golf Hall of Fame.
I am also very proud of developing the Premier Junior Golf Program in Southern Nevada. I now have a large number of young golfers involved with my program, including over fifty kids on my five PGA Junior League teams.

I teach at DragonRidge CC in Henderson, Nevada. I use a state of the art, climate controlled, teaching bay with both a video system and launch monitor.
Pricing
Adults: $125/hour $350/three hours $1000/ten hours
Juniors: $75/hour
Contact: golfmd@cox.net 702 321-7404
Website: MikeDavisGolf.com
JUNIOR GOLF
Program
Price
Contact
Dates
EARLY EVENINGS ON THE COURSE
WITH COACH LIAM
Maximum 3 Students Per Session
(Cost goes down with more signups)
1 Junior – $60 per player
2 Juniors – $40 per player
3 Juniors – $30 per player
Coach Liam Hunt
408.805.9994
liamhunt99@gmail.com
Tues., Wed. & Thurs.
2 Sessions Available:
5-6pm
6-7pm
3 DAY JUNIOR GOLF CAMP
$160 per Week
$600 for 4 Weeks
Coach Liam Hunt
(408)805-9994
liamhunt99@gmail.com
Tuesday-Thursday
9am-11am
Mike Davis Junior Golf Academy – PGA Junior League
Working with young golfers has always been a passion of mine. With the support of the DragonRidge CC and its great facilities, I now have the Premier Junior Golf Program in Southern Nevada. The kids in my program have won numerous local and regional tournaments and many age group Player of the Year awards.
My program is a combination of private instruction and group practices. This allows everyone to advance at their own pace. The group practices consist of technique work with each child and goal-oriented drills that are fun but also create a competitive atmosphere.
Group practices are multiple days per week and Saturday. The times will vary depending on the season, usually mornings during the summer and after school the rest of the year.
Students may purchase ten- or twenty-hour packages and use them at any pace they desire. Each package includes 30-minute private lessons. Note: Group sessions may be taken in one or two hour increments.
Ten-hour group practices plus one 30-minute private lesson = $230
Twenty-hour group practices plus two 30-minute private lessons = $435
Space will be limited for all sessions. Registration will be required.
You may sign up by contacting me at golfmd@cox.net or 702 321-7404
Mike Davis, PGA Master Professional
Director of Instruction, DragonRidge CC
Southern Nevada PGA Junior League, Tournament Director
PGA Junior League, National Rules Committee Member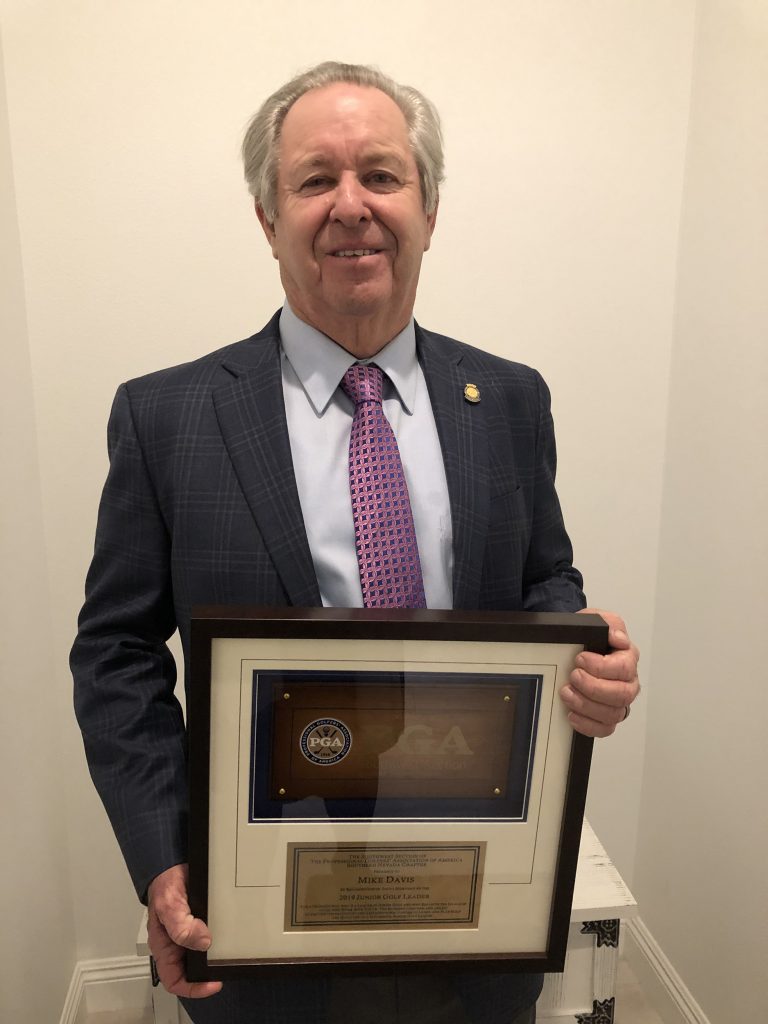 About Mike Davis
Mike is recognized as one of the top instructors in the country, being chosen by GOLF Magazine for their prestigious Top 100 Instructor list, and has been ranked a Top Teacher in Nevada since 2002 by Golf Digest. He has been chosen Instructor of the Year thirteen times by PGA Chapters and four times by PGA Sections.
Mike has a long history as a competitive golfer. He has won numerous regional tournaments, played in three US Opens, one PGA Championship and was a full time PGA Tour member in the mid-seventies. He has taught over 110 students who have played on college golf teams around the country. His former students have become high school and college coaches, PGA professionals and professional golfers. He was the Director of Instruction for VegasGolfer Magazine for four years.
Mike is an expert in the field of video instruction, having won an award for his research project: "The Efficacy of Using Video in Golf Instruction" from the World Scientific Congress of Golf, in St. Andrews, Scotland. Mike has written hundreds of articles for regional and national magazines over the past thirty years including Golf Digest, GOLF Magazine and numerous regional and local publications.
Teaching Philosophy
We believe in teaching people, not golf. Each student is unique and may require a different approach to the fundamentals than someone else.
We believe in establishing a strong foundation of the correct set-up for each stroke. If there is an error in the set-up, a perfect swing will produce a bad result.
We work toward improving the student's game on the course; making certain they develop an understanding for course management decisions and the mental side of the game.
We develop a sound long-range plan for each student.
We use the latest technology to enhance the student's learning experience and development. We strive to always exceed our customers' expectations. To learn more about Mike Davis please visit his websites: www.MikeDavisGolf.net or MikeDavis.net