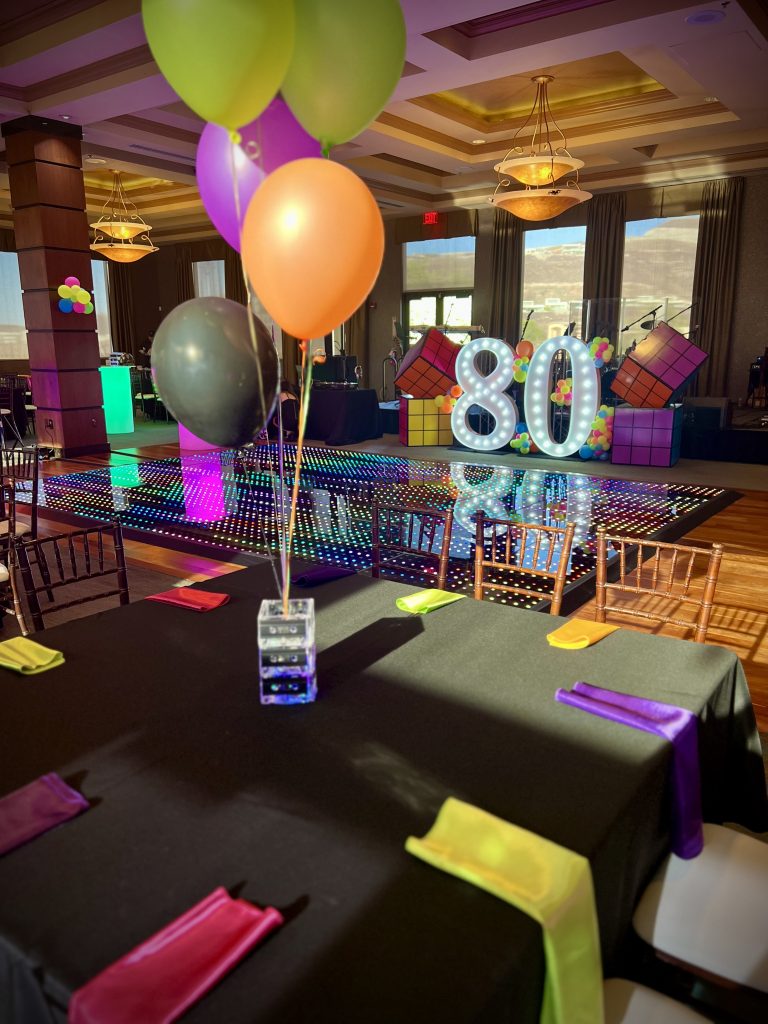 An Array of Life Celebrations – Special Events in Las Vegas
At DragonRidge Country Club, we have space available to accommodate from intimate to grand events. We can cater and arrange your affair, whether it is a birthday party, baby shower, themed party, holiday party, corporate event, awards gala, anniversary party, Bar/Bat Mitzvah, graduation celebration, sporting event viewing party, and so much more.
My name is Delano Jackson, President and CEO of Seven Days LLC. I would like to take this opportunity to thank the entire DragonRidge Country Club Events Team for the outstanding service they provide on every occasion that I have reserved the ballroom for special events.  The knowledge of special events and planning is outstanding.  The staff's patience, professionalism, and attention to detail is above reproach. As a member of the country club for several years, I have had the opportunity to attend all types of events. I've watched the staff transform the ballroom space into a studio set to film our MOJ Show, attended amazing weddings, New Year's celebrations and even a movie premier!  For the individual or organization that is looking for an amazing venue with an incredible view of Las Vegas, with an amazing staff that will put you first, I highly recommend you contact DragonRidge Country Club, located inside the McDonald Highlands community. The new Hollywood Hills!
Dragon Ridge Country Club is an excellent venue for a child's birthday party. There are options on size of rooms for a smaller party or the ballroom for a larger party. They will work with you on whatever theme you want from bounce houses, to booths to other entertainment options. Food, beverage and service is fantastic. Would definitely recommend!!
Dragon Ridge Country Club events team hits a home run every time they host an event for us. They are very responsive and great with our event communication leading up to our event/program.  Great customer service and attention to detail.  We are thankful for the club's relationship–We look forward to MANY more opportunities to come back to Dragon Ridge County Club!!
We hosted Two graduation events at DragonRidge Golf Club and both events were perfect! Our event coordinator was very professional and detail oriented.  She has excellent communication skills and is willing to do extra little details to accommodate our group. The food was delicious. Our group loves holding events at DragonRidge and hopes to use them in the future.
DragonRidge Country Club is our favorite venue to host events! The beautiful view, excellent food and amazing staff also make it well loved by our attendees.  From a planning perspective, the catering and event team couldn't make things easier for us.  They help us with every step of the process and make sure things run seamlessly all the way through to the very end.  We cannot recommend this venue highly enough.
I have been attending and organizing events at DragonRidge Country Club for more than five years now.  As an active 27 year local resident, I've had the opportunity to attend special events all over the S. Nevada valley.  DragonRidge by far is my favorite venue. The Catering Director is amazing to work with along with her staff.   The food, service, views, exclusivity, etc. are amazing.  Book it, you won't be disappointed.
I just want to again express how fantastic it was to work with Holly – She made our event seamless – very attentive and pleasant! Our guests truly enjoyed DragonRidge and your team's hospitality. Rock stars. Thank YOU! We'll see you again soon.
Wedding/Special Event Inquiry Form