Over the next few months, Las Vegas-based golf writer Bill Bowman will give readers a look at DragonRidge Country Club and all it has to offer for members and prospective members. From a challenging golf course to impressive dining options to a variety of other high-end amenities, we will showcase the ultimate lifestyle DragonRidge has to offer on and off the golf course.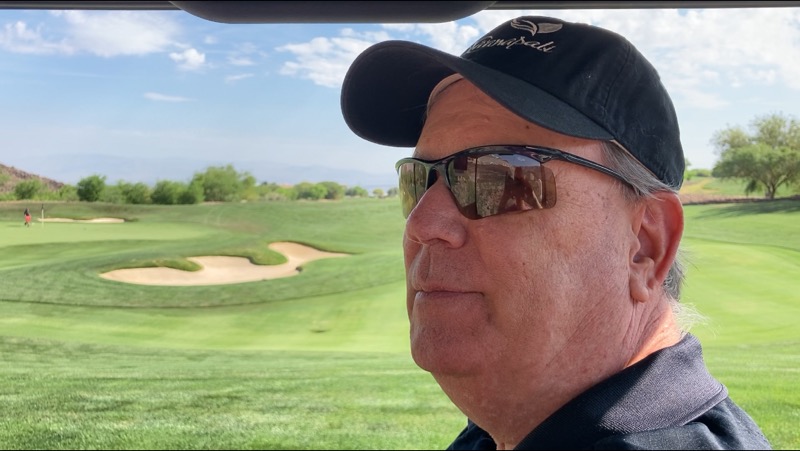 Well, almost on the course. We seem to have a swing problem as there have been a few sprayed tee shots (we refuse to call them a slice or a hook). There have also been a few putts that didn't have the line or the speed correct and, worst of all, there have been a few scores turned in that are nearing the temperatures in Las Vegas.
Not good.
But, there's not a whole lot to be done except go out and keep working at it…even though we're not sure how or what to work on. Right?
Nope…nothing could be further from the truth.
This is where Mike Davis, Director of Instruction at DragonRidge Country Club, comes into the picture.
Just a short chip from the first tee is Davis' office–well, actually it's the practice facility.
Most country clubs have plenty of outdoor hitting areas to work with students. The same is true with DragonRidge.
But there's more. Davis also has a second home: a state of the art indoor facility that is climate controlled for your comfort on hot days, windy days, cool days, rainy days or anything else that might come up.
Ever tried to hit golf balls in front of your instructor when it's 100-plus degrees outside? Of course you have, we're in Vegas.
The indoor bay portion of the facility also includes the high-tech bells and whistles of a video system and launch monitor. Whether it's an outside chipping lesson or one indoors, Davis is committed to making sure students' lessons fit them to a 'T.'
In fact, Davis says so in DragonRidge's website. His goal is to find out where a student wants to take his or her game and work on a plan to achieve that goal.
It's that simple.
Well, not quite that simple as there's plenty of work the students need to put in before players will achieve those goals–or at least get them heading in the right direction.
Davis, who has 50 years of lessons under his belt, has plenty of successes to fall back on. Are you next? If you're looking to take your game to the next level…or levels…Davis certainly has the experience, patience and knowledge to ensure when you head up to the first tee in the near future, you're taking a new-found game onto the course.
And with a golf course like DragonRidge Country Club, there's nothing better than having your 'A' game on an 'A+' rated layout.
That will wrap up our six-part series on a look at DragonRidge. We've given you glimpses on and off the course but have barely scratched the surface of what the club has to offer…both on and off the golf course.
If we've piqued your interest, more information is available online or with a phone call to the helpful staff.
Hopefully we will see you in the fairway down the line.