How Private Golf Courses Differ from Public Links
News Home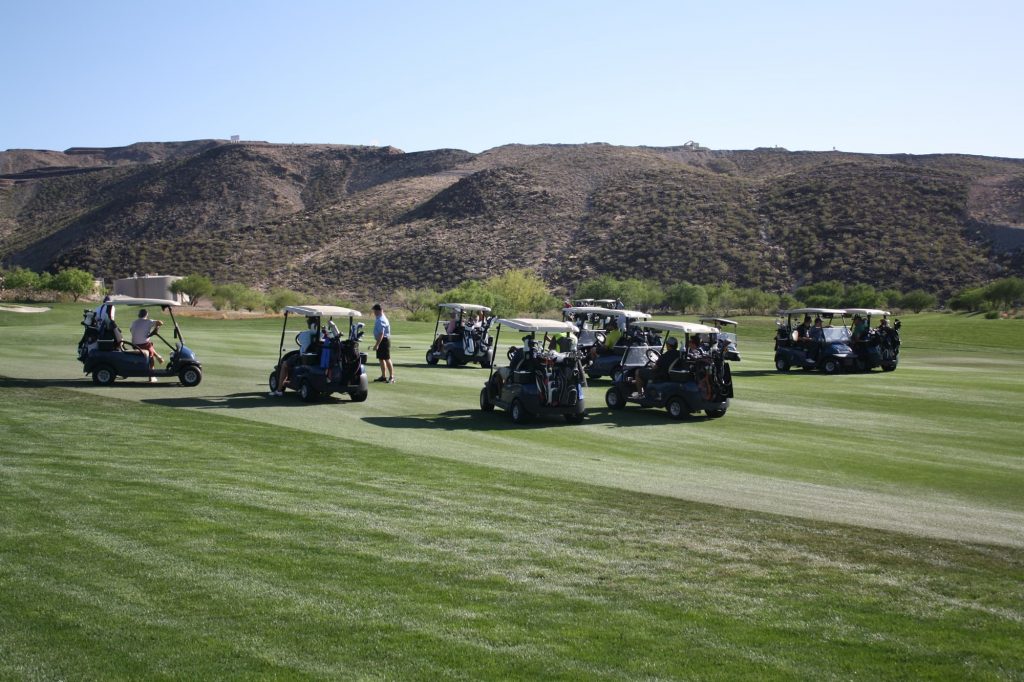 There are plenty of public golf courses in the region that would love to have your business. But a private golf course in Las Vegas will offer benefits that far exceed those you'll find on a public course.
Here are a few of the advantages of playing a top-of-the-line, private course that may lead you to explore membership opportunities at DragonRidge Country Club.
You'll experience first-rate grounds and facilities. Private clubs like DragonRidge live on their reputations. That means the properties are impeccable! At DragonRidge the setting includes unobstructed, breathtaking views of the Las Vegas Valley and city skyline. The course itself is one of the most beautiful and dynamic courses you'll ever play. It's no wonder that Golf Digest Magazine has repeatedly named DragonRidge one of the top ten courses in Nevada.
No crowd control is necessary. With the built-in exclusivity of a private golf club, you won't have to worry that every time the weather is fantastic the golf course will be overrun with players. Finding yourself in gridlock on a public course can put a wrench in an otherwise ideal golf day. But at DragonRidge you won't have to fight the fray. You will enjoy a luxurious, private golf experience at a pace that will make you feel as though the course is your own.
You'll play when you feel like it. At DragonRidge Country Club we cater to our members, many of whom are accustomed to squeezing in a quick round of golf on the fly. The DragonRidge Golf Shop regularly assists members who have special booking needs that may include limited windows of time for golf or unusual hours of play. Private golf courses like DragonRidge offer scheduling flexibility that is not as likely to be found at public courses where golfers pre-pay and pre-schedule their rounds. Helping you get in a few holes of golf at a time that is most convenient for you is our goal.
You'll impress your clients. Many people in business find a DragorRidge golf membership to be a major tool in helping them with sales. As a golf club member, you'll have plenty of opportunities to entertain and impress clients on one of the best golf courses in Vegas. Many clients who've played on other courses in southern Nevada will jump at the chance to play DragonRidge. Even golfers who belong to other country clubs are extremely impressed with the DragonRidge experience and won't turn down an invitation to play the DragonRidge 18-hole Championship Course. Some of your most successful days at the office will be days you spend on the private golf course at DragonRidge.
Golf is only the beginning. The "19th hole" at DragonRidge far exceeds the post-play experience you'll find at public golf courses. The ambiance, the hospitality, the comradery, the cuisine and the views at the DragonRidge clubhouse are simply unparalleled. Even non-golfers who prefer lounging by the swimming pool, playing fierce matches on the newly-resurfaced championship tennis courts, or working out at the at the DragonRidge Tennis and Athletic Facility, will flock to the main clubhouse in the afternoons for live music, live televised sporting events, happy hour, fine dining, family dining, gourmet quick bites and more. The open spaces throughout the main clubhouse are contemporary and inviting, featuring full bar service, indoor and outdoor fireplaces, sofas and televisions, as well as indoor and outdoordining with spectacular views from the club's balconies, terraces and patios.
Explore Your Membership Opportunities Today
We welcome your interest in DragonRidge Country Club! To check out the golf course and stroll through the grounds, just reach out to Corey Strzalka, Membership & Marketing Director at (702) 835-8155. CStrzalka@DragonRidgeCC.com. See for yourself how much difference there is between a public course and one of the finest private golf memberships Las Vegas.